NOTE: The North Branch Canal Trail is currently closed between trail miles 3.5 – 4.1 due to an ongoing legal dispute. Do not enter this area. Other portions of the trail remain open for use.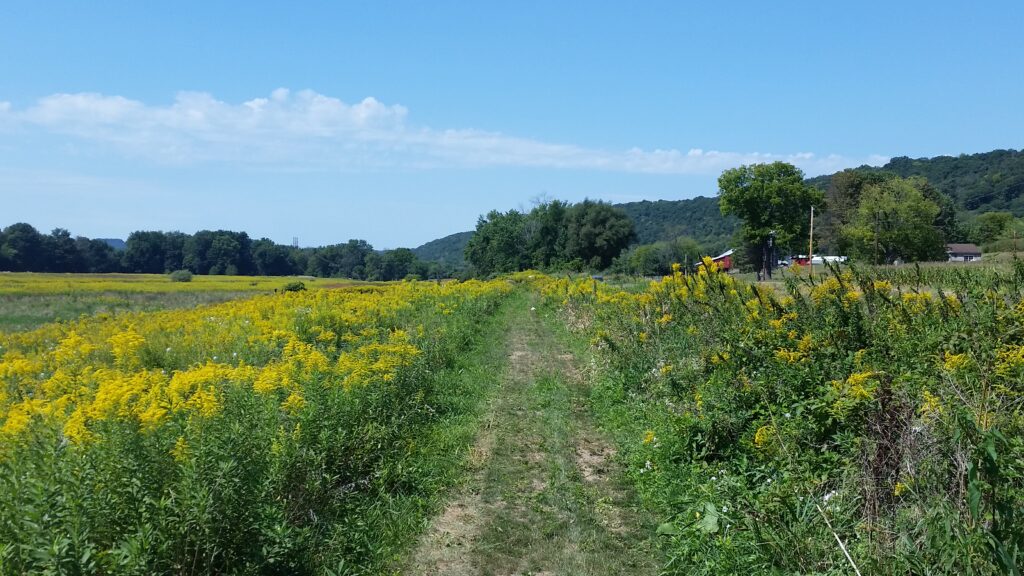 TRAIL OVERVIEW
The 6.2 mile-long Danville to Catawissa portion of the North Branch Canal Trail has been constructed as a semi-natural pathway on the former towpath of the North Branch Canal. The trail is designed for use by pedestrians and off-road bicyclists; it is not suitable for those with mobility restrictions. The trail surface is mowed grass, with an average width of 5ft, but it is narrower in places to protect natural resources.
TRAIL SPECIFICATIONS
DISTANCE
6.2 miles (10km) one-way or 12.4 miles (20km) out and back
PERMITTED USES
Hiking, bicycling, cross-country skiing, pets (on leash)
WALKING TIME
Walking the entire 6.2 mile-long trail at a leisurely pace of 2.5mph will take approximately 2.5 hours. If walking the entire trail out and back (12.4 miles), expect to take approximately 5 hours
SURFACE: mowed grass and natural surfaces
ELEVATIONS:
450ft minimum / 460ft maximum
TRAIL WIDTH:
5ft average; short segments have widths of only 4ft
TYPICAL TRAIL CROSS-SLOPE:
flat (short sections have irregular surfaces)
MAXIMUM TRAIL SLOPE:
60ft (18.3m) at 17% slope (10ft (3m) climbed within 60ft (18.3m) traveled)
TRAIL RULES
Trail hours are dawn to dark.
Horses and motorized vehicles are not allowed.
This trail corridor passes through private campgrounds and lands where farming, hunting, shooting, and other activities occur. Stay on the trail and be respectful of private landowners' properties and activities.
Hunting is not allowed on or from the trail.
Bicyclists should travel at safe speeds and dismount if needed; be courteous and yield to pedestrians.
Pets must be leashed at all times; please clean up after your pet and properly dispose of waste.
Do not litter; please carry out all you carry in.
No camping or fires are permitted along the trail.
Respect wildlife; please take only pictures.
NORTH BRANCH CANAL HISTORY
Construction of the North Branch Canal began in 1828. It replaced river travel and operated as a major shipping and transport route from 1831 until it was decommissioned in 1901, primarily because the rail industry had rendered the canals obsolete. During that time, the North Branch Canal was part of a state-wide network that carried people, foodstuffs, and goods such as anthracite coal, pig iron, limestone, brick, lumber, and farm products throughout the region.
Culturally, the North Branch Canal was an important part of daily life. It linked the existing river towns, carried news, gossip, and goods, and was an important place for recreation, socializing, swimming, and ice skating.
The North Branch Canal hasn't been used for over a century and few people survive who remember even the end of the canal era. Between Danville and Bloomsburg, the historic canal and towpath infrastructure is largely intact, though often overgrown and eroded. The canal can still be identified today as a linear channel paralleled by an elevated towpath with intermittent structures such as locks, stone retaining walls, and aqueducts.
SAFETY INFORMATION
This trail contains frequent irregular surfaces; those with mobility restrictions are cautioned.
Beware of falling tree limbs, particularly during and after windy conditions.
Ticks, biting insects, poison ivy, and other natural pests should be expected. Wearing long pants and sturdy footwear are encouraged.
Some trail sections are particularly narrow and/or have steep drops of up to 20ft on one or both sides. Please keep children and pets under close supervision and control at all times.
A streambed crosses the trail at mile 2.71. Though dry for most of the year, please exercise caution at this location when water levels are high.
In the event of an emergency, dial 911, but be aware that cell phone coverage is poor in places.
Trail mileages are posted on signs every 0.1 mile along this corridor to assist with guiding emergency responders. Mile markers begin at 0.1 near the Mahoning Township, Montour County trailhead and continue through mile marker 6.2 near the Catawissa Boat Club in Montour Township, Columbia County.
To download a copy of the North Branch Canal Trail brochure, please click on the image below.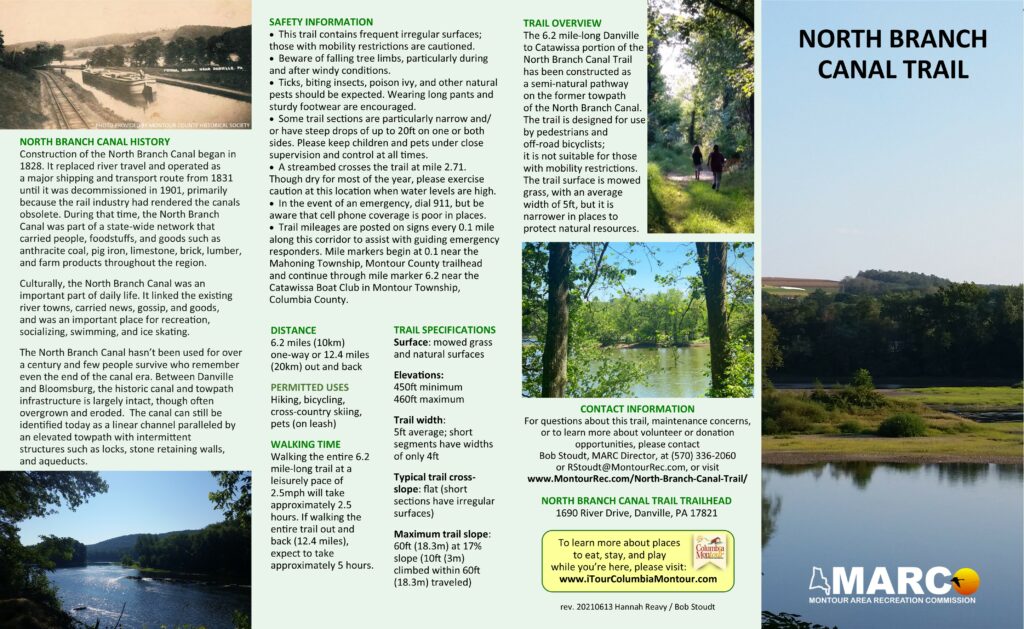 This project was made possible, in part, by funding received through the Environmental Stewardship Program of Williams Transco Atlantic Sunrise Pipeline, administered by The Conservation Fund. Project management was directed by the Montour Area Recreation Commission, with administrative support by the Susquehanna Greenway Partnership.