UPDATE 9/29/16 – NEW SECTION OF NORTH BRANCH CANAL TRAIL NOW OPEN
The Montour Area Recreation Commission (MARC) is pleased to announce the opening of a 3.5 mile-long section of the Danville to Catawissa portion of the North Branch Canal Trail. This newly completed section of trail is located in Mahoning and Cooper Townships, Montour County and expands upon the 0.4 mile-long section of trail opened in October 2015. This new section of trail is open for public use, effective immediately. Additional sections of the 6.2 mile-long trail corridor are expected to open later this year.
Like the initial section of trail opened last fall, the newly expanded North Branch Canal Trail is constructed as a mowed-grass surfaced semi-natural trail, suitable for pedestrian and off-road bicycle use. The trail is closed to motorized and equestrian use. Because of irregular surfaces and occasional slopes, this trail is not suitable for those with mobility restrictions.
This project was made possible, in part, by funding received through the Environmental Stewardship Program of Williams Transco Atlantic Sunrise Pipeline, administered by The Conservation Fund. Project management was directed by the Montour Area Recreation Commission, with administrative support by the Susquehanna Greenway Partnership. Major construction was completed by Earthwork Services, LLC of Danville, PA. Approximately 1,200 hours of volunteer labor have been donated to the project since trail construction began in December 2013.
For directions to the North Branch Canal Trail trailhead, please click here.
To see a copy of the North Branch Canal Trail trailhead kiosk map, including details regarding trail characteristics, safety information, rules and other details, please click the image below.  MARC thanks the Susquehanna Greenway Partnership and PA Department of Conservation and Natural Resources for trail signage funding support.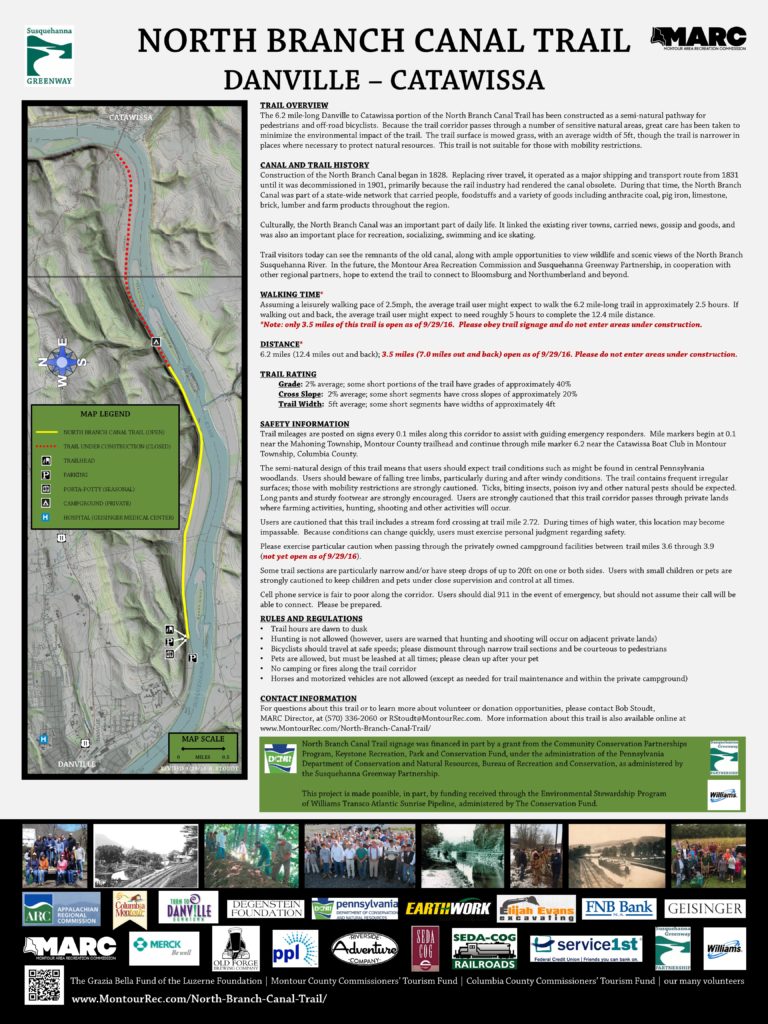 To learn more about the history of the North Branch Canal Trail project, please click the image below.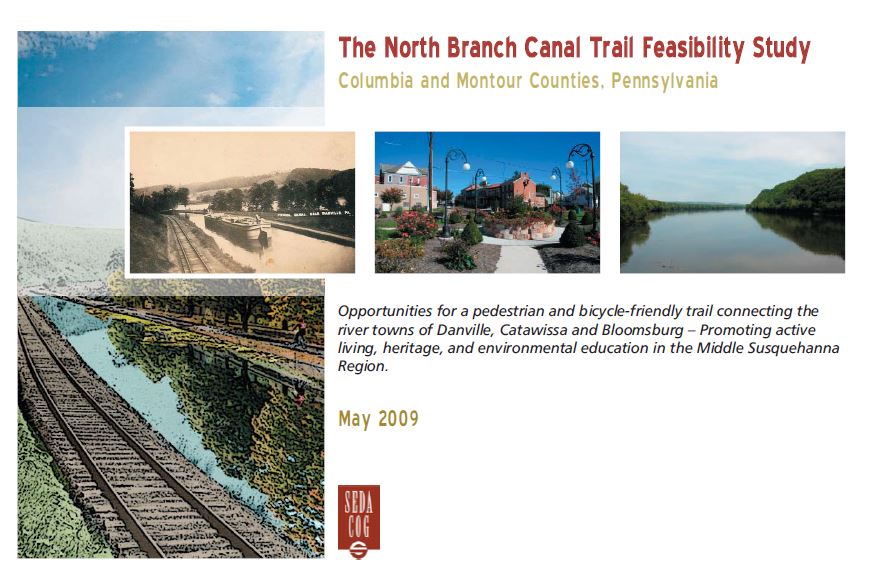 The North Branch Canal Trail Feasibility Study was financed in part by a grant from the Community Conservation Partnerhips Program, Keystone Recreation, Park and Conservation Fund, under the administration of the Pennsylvania Department of Conservation and Natural Resources, Bureau of Recreation and Conservation. Additional funding for this project was provided by the following local partners:
Appalachian Regional Commission
The Degenstein Foundation
Merck and Co., Inc.
Geisinger Health System
PROJECT OVERVIEW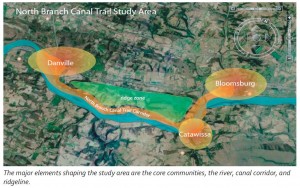 The North Branch Canal Trail project is an amazing opportunity to create a pedestrian and bicycle trail in the Middle Susquehanna region. More than a simple place to walk and bike, the trail will link communities, increase recreational options, provide economic and environmental benefits and connect people to the culture, nature, and beauty of the Susquehanna River and the historic North Branch Canal. The North Branch Canal Trail is a demonstration project of the larger Susquehanna Greenway because it clearly embodies the ideals and benefits that a greenway can provide at the local and regional scale. The vision for the canal trail is to connect communities along a greenway trail that uses and celebrates the canal-era heritage and infrastructure that still exists within the Middle Susquehanna region. Specifically, the project aims to develop a family-oriented pedestrian and bicycle trail for healthy living between Danville and Bloomsburg following the route of the historic North Branch Canal. Benefits will extend into many realms beyond simple recreation. The trail building will help stabilize, preserve and restore historically significant canal structures that will allow current and future generations to learn about and physically connect to the region's past. The trail corridor runs for 12 miles between Danville and Bloomsburg via Catawissa along the North Branch of the Susquehanna River Between towns, floodplains, and wetlands abutting the steep slopes of a modest ridge have protected the area from significant development. Much of the canal and towpath corridor is owned by the SEDA-COG Joint Rail Authority who is a strong supporter of developing the "rails with trails" North Branch Canal Trail for public use within an active railroad right-of-way.
NORTH BRANCH CANAL HISTORY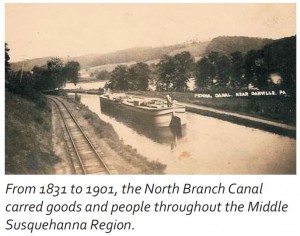 Construction began on the North Branch Canal in 1828. Replacing river travel, it operated as a major shipping and transport route from 1831 until it was decommissioned in 1901, because the rail industry had rendered the canal obsolete. During that time, the North Branch Canal was part of a state-wide network that carried people, foodstuffs and a variety of goods including anthracite coal, pig iron, limestone, brick, lumber, and farm products throughout the region. Culturally, the North Branch canal was an important part of daily life. It linked the existing river towns, carried news, gossip and goods, and was also an important place for recreation, socializing, swimming and ice skating. The North Branch Canal hasn't been used for over a century, and few people survive who remember even the end of the canal-era. However, evidence of the canal is still written on the landscape. The canal can be identified as a linear channel paralleled by an elevated towpath and strung with intermittent structures such as locks, stone retaining walls and aqueducts. Between Danville and Bloomsburg, the historic canal and towpath infrastructure is remarkably intact, but often overgrown and eroded. Without a plan to preserve and interpret the North Branch Canal, the physical remnants of the channel will slowly disappear from the landscape.
PROJECT DOCUMENTATION
January 26, 2015 Project Presentation
February 25, 2014 Project Presentation
North Branch Canal Trail Feasibility Study
Bloomsburg University / SEDA-COG NBCT Field Study
March 9, 2012 MARC Project Presentation
May 12, 2015 MARC Project Presentation
North Branch Canal Trail Erosion and Sedimentation Control permit mapping
North Branch Canal Trail Agreement of Transfer of Property & Lease Agreement
North Branch Canal Trail Property Survey / Subdivision Plan Set
For more information, please contact Bob Stoudt, MARC Director, at (570) 336-2060 or RStoudt@MontourRec.com.