The East Branch Recreation Area encompasses approximately 70 acres of property owned by Talen Energy. Purchased by PPL in the 1960s, it has been developed to provide a variety of recreation opportunities for the residents of Columbia and Montour Counties and the surrounding region.
A loop trail provides an area where people can take a leisurely walk with their pets or get the physical benefits of some fast-paced walking, running or biking. The different habitats — including field, forest and wetland — will provide ample opportunity for nature observation and photography.
Wildflowers of forest and field should be evident during most of the year. Wildlife watchers will be able to see many of their favorite birds, mammals and insects. At certain spots on the trail you can relax while enjoying a panoramic view of the surrounding countryside or sit near a former homestead and watch creatures in a created wetland.
The athletic fields, which are managed by the Montour Area Recreation Commission, provide a place for soccer, lacrosse and other compatible outdoor activities.  Fields are available to reserve at no cost on a first-come, first-served basis.  Click the button below for the site calendar or to reserve a field.
RESERVE A FIELD AT THE EAST BRANCH REC AREA
We hope you enjoy your time here. Please use the premises wisely and come back often.
EAST BRANCH RECREATION AREA SITE MAP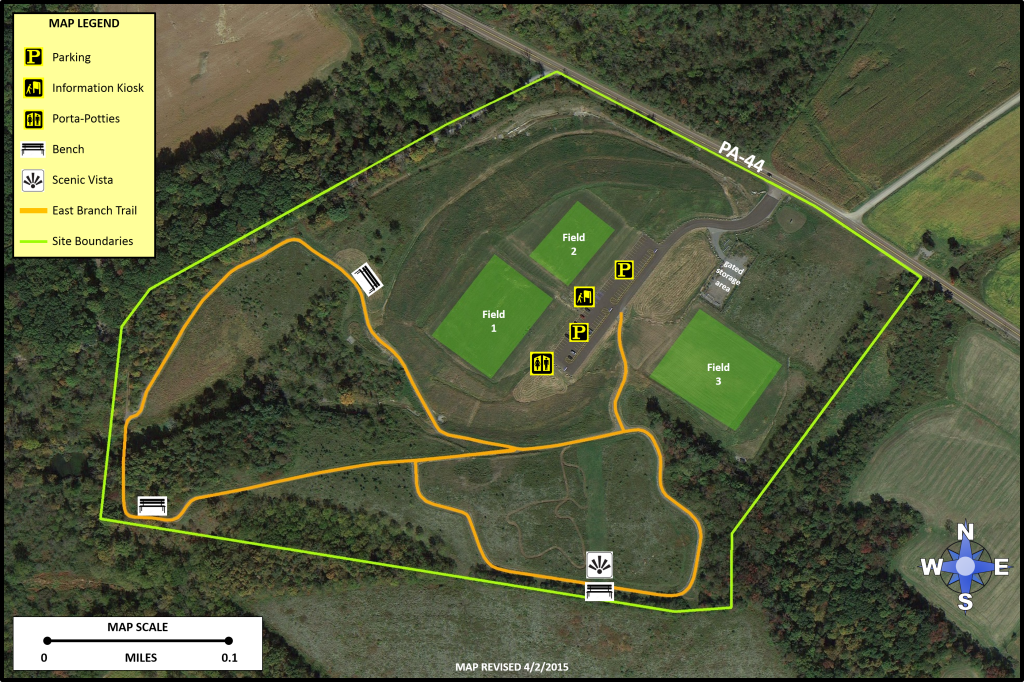 RECREATION AREA RULES
During your time at the East Branch Recreation Area,
we ask that you observe some simple rules so that other visitors can also enjoy the area:
1. East Branch Recreation Area is open from dawn to dusk.
2. Alcohol and narcotics are prohibited.
3. Camping is not permitted.
4. Dogs must be leashed and under control at all times.
5. Please clean up after your pet.
6. Horses are permitted only in the parking area.
7. Snowmobiles and ATVs are prohibited.
8. Open fires are prohibited.
9. Please park only in designated areas.
10. Hunting, trapping and shooting are prohibited.
11.  Music must be kept at a volume that will not disturb others.
IN CASE OF EMERGENCY, PLEASE CALL 911.
The East Branch Recreation Area is located at 333 Whitehall Rd (PA Route 44), Bloomsburg, PA 17815.
It is 1.7 miles north of the intersection of Route 44 and Route 254 ( Jerseytown, PA), and 6.6 miles south of the intersection of Route 54 and Route 44.
LOCATION MAP (click map for driving directions)