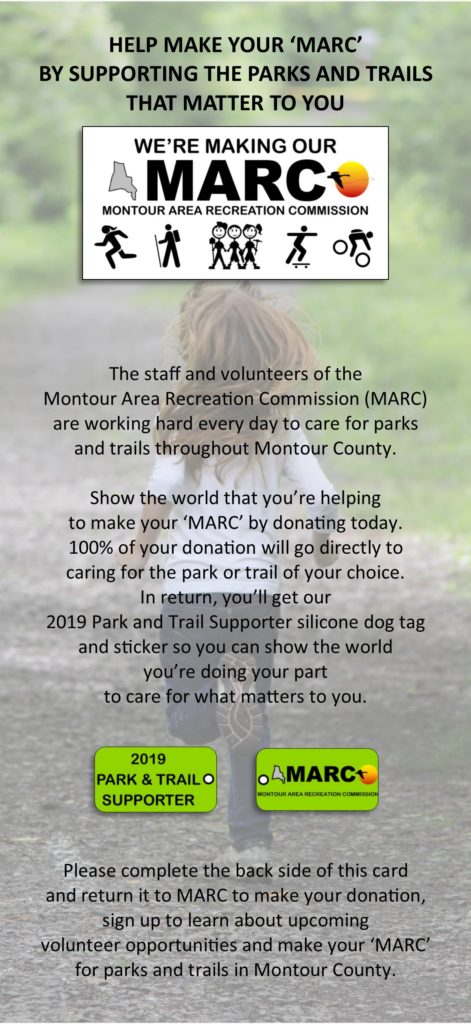 HELP MAKE YOUR 'MARC' BY SUPPORTING THE PARKS AND TRAILS THAT MATTER TO YOU
The staff and volunteers of the Montour Area Recreation Commission (MARC) are working hard every day to care for parks and trails throughout Montour County.  Show the world that you're helping to make your 'MARC' by donating today.  100% of your donation will go directly to caring for the park or trail of your choice.  In return, you'll get our 2019 Park and Trail Supporter silicone dog tag and sticker so you can show the world you're doing your part to care for what matters to you.
Please click on the image to the left to download the donation form.  Please print and complete the form, then return it to MARC to make your donation, sign up to learn about upcoming volunteer opportunities and make your 'MARC' for parks and trails in Montour County.
Please note: donations made directly to MARC are not tax-deductible.  To learn more about tax-deductible donation options, please see below.
---
The Montour Area Recreation Commission is working hard to ensure the long-term viability of the parks, trails and other outdoor recreational opportunities in and around Montour County.  If you believe our efforts are worthy of your support, please consider making a donation today.  MARC has established a fund with the Danville Area Community Foundation at the Central Susquehanna Community Foundation to enable donors to make tax-deductible contributions (to the extent allowed by law).
To make an online donation with PayPal or a credit card, please click on the button below.  Look for 'Montour Area Recreation Commission – Agency Fund' under the 'Organization Endowment and School Foundation Funds' section.  If you would prefer that your support go directly to our work at the Montour Preserve, please select 'Montour Area Recreation Commission – Montour Preserve Fund'.

If you'd prefer to make your donation by mail, please click here for the mail-in form.
To learn more about MARC's efforts, please contact Bob Stoudt, MARC Director, at (570) 336-2060 or by email at RStoudt@MontourRec.com.
For even more about MARC's recent projects and the need for your support, please watch SECV8's 'In Your Neighborhood' story from September, 2016, available by clicking on the image below.